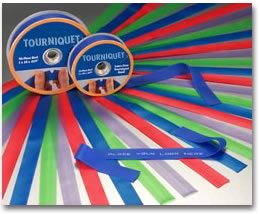 Latex-Free
Tourniquet Bands
The non-latex tourniquet band offered by Dunlap is manufactured from a proprietary
blend of materials specifically chosen
to provide physical properties that closely
resemble those of latex without the
concerns of latex sensitivity.
Ideal for use with latex-sensitive patients.
Notch cut every 18" for quick and
easy dispensing from reels.
Colors
Standard Blue, Custom colors available including fluorescent and pearlescent.
Dimensions
1" wide x 18" long x .025" thick
3/4" wide x 12" or 18" long x .025" thick is also available
Packaging
25 piece reels (4, 10 and 40 reels/case)
50 piece reels (5 and 20 reels/case)
100 piece box (packaged flat)
Custom Packaging including Rolled & Banded and Folded & Banded are also available.