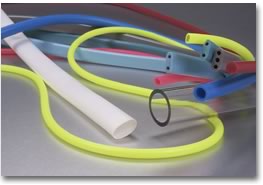 PVC Tubing
Polyvinyl Chloride (PVC) Tubing
Dunlap offers six stock PVC medical grade formulations ranging in durometers from 40 to 90 to meet a variety of medical or food grade applications. PVC tubing meets U.S.P. Class VI requirements. It is non-toxic and inert, has superb clarity and possesses good flame, tear and electrical resistance properties. In addition to the six compounds, we also offer a variety of custom compounds, including silicone replacements, to meet your requirements.
Colors
Available clear or color-matched to meet your specification.
Sizes
We can supply from 1/16'' (.063) I.D. with
O.D.'s up to 1'' with a variety of wall thicknesses.
Multi-lumen and solid cord are also available.
Packaging
Custom coils or cut lengths per customer specifications.
Performance Characteristics:
Excellent clarity
Flexible
Corrosion resistant
Non-aging
Non-oxidizing
Sterilizable
Dimensionally stable
Wide range of durometers and compounds
Silicone-replacement compounds available
The technical information supplied consists of typical product data and should not be used for specification purposes. Unless otherwise noted, all tests are performed at room temperature. The potential user must perform any pertinent tests to determine the product's performance and suitability in the intended application. Final determination of fitness of the product is the responsibility of the buyer.