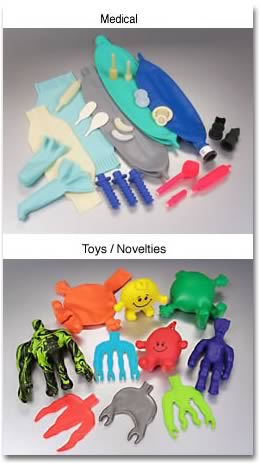 Dip Molded Products
Dunlap can offer dip molded products in both latex and non-latex. We excel at finding solutions for difficult applications or meeting tough deadlines. By specializing in small to medium run batches, we offer our customers the ultimate flexibility when it comes to a wide choice in shapes, sizes, wall thicknesses and colors.
Experienced design personnel minimize start-up costs and shorten development cycles.
We distribute products for the medical market, the toy and novelty market, and a variety of other markets. Anesthesia bags, probe covers and surgical inflation devices are just a sampling of what we provide the medical market. The ability to dip a variety of compounds makes our capabilities the perfect solution for your dip product requirements.
Colors
A large array of colors are available including natural amber and black. We also can provide matching. Specialty compounds can be evaluated and/or developed to meet special requirements.
Dimension Requirements
Part dimensions should be in the range of 1" to 25" in length and 1/4" to 12" in diameter. Parts can be no larger than 5 times the diameter of the open end. This permits stripping the part from the dipping form without undue stretching or damage. Parts cannot be solid. If you have an unusual shape or size, please contact us to see if we can accommodate your needs.
Form Guidelines
Forms should have rounded contours to allow material to flow during dipping. Sharp angles and/or flat surfaces parallel to the surface of the material should be avoided. Customer may provide forms or we will have forms made to customer specifications. Detailed dimensional drawings insure accurate tooling of forms.